Helping you protect what matters most since 1923.
Throughout our long history, we have always worked to make a difference in our clients' lives.
Turp, Coates, Driggers & White, located in historic Hightstown, New Jersey was founded as Turp, Coates, Essl & Driggers. Our goal is to serve the people, municipalities and organizations in Central New Jersey. Our clients come from Mercer, Middlesex, Monmouth, Ocean, Burlington and Hunterdon counties.
We specialize primarily in Estate Planning, Estate Administration and Estate Litigation as well as Real Estate Law, Business Law and Land Use law.
How can we help you?
Call today (609) 448-0016 to schedule a free consultation
TESTIMONIALS
What Our Clients Say
"George and Samantha are always a pleasure to work with. I have used their counsel on a variety of legal matters and have never been disappointed with their professionalism and effectiveness. Without fail, I can say they are the reason I have gotten the outcome I desired in every property dealing so far. It is comforting to know they will be on my family's side for any legal matters that come up."
-Alicja
"We have used George White for several legal issues and have always been totally satisfied with the legal advice he provided. George handled the writing of our wills, he wrote up the contract when we purchased the assets of a small business, and he helped with estate advice on a sticky family matter. In each instance he was thorough and detailed, and we were very happy with the results. Highly recommend this very professional firm."
-Marilyn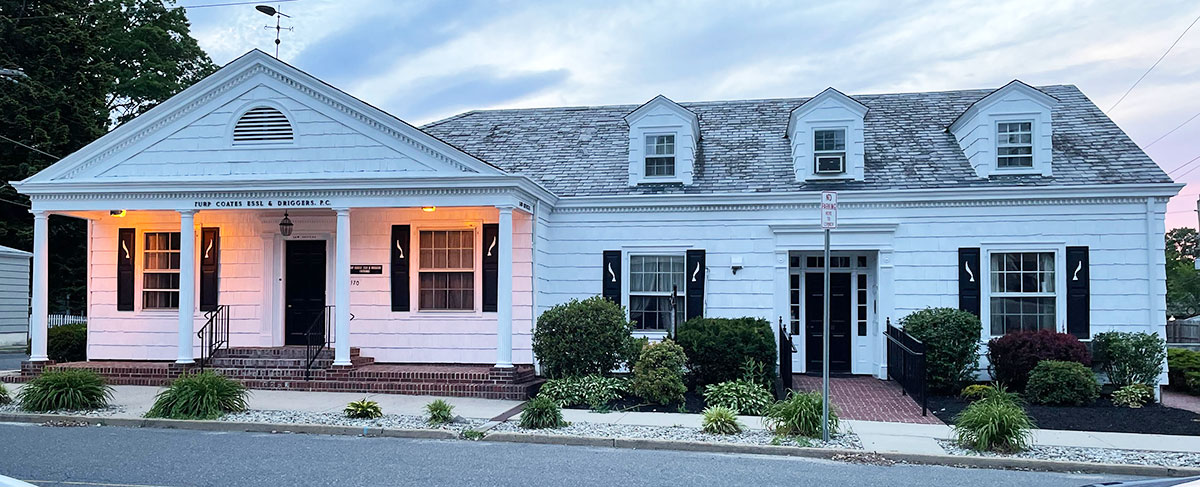 Turp, Coates, Driggers & White
170 South Main St
Hightstown, NJ 08520